The Red Door Films is a Los Angeles-based production company that produces high-quality independent films, television, and documentaries.
A Story of Adventure, Achievement, and One That Must Be Told!
We are in post-production seeking $350,000 in finishing funds to complete this stage in our incredible documentary, one of the last untold stories of WWII.
They fought for their country.
They spent their lives fighting for their legacy.
Now, we must fight for them.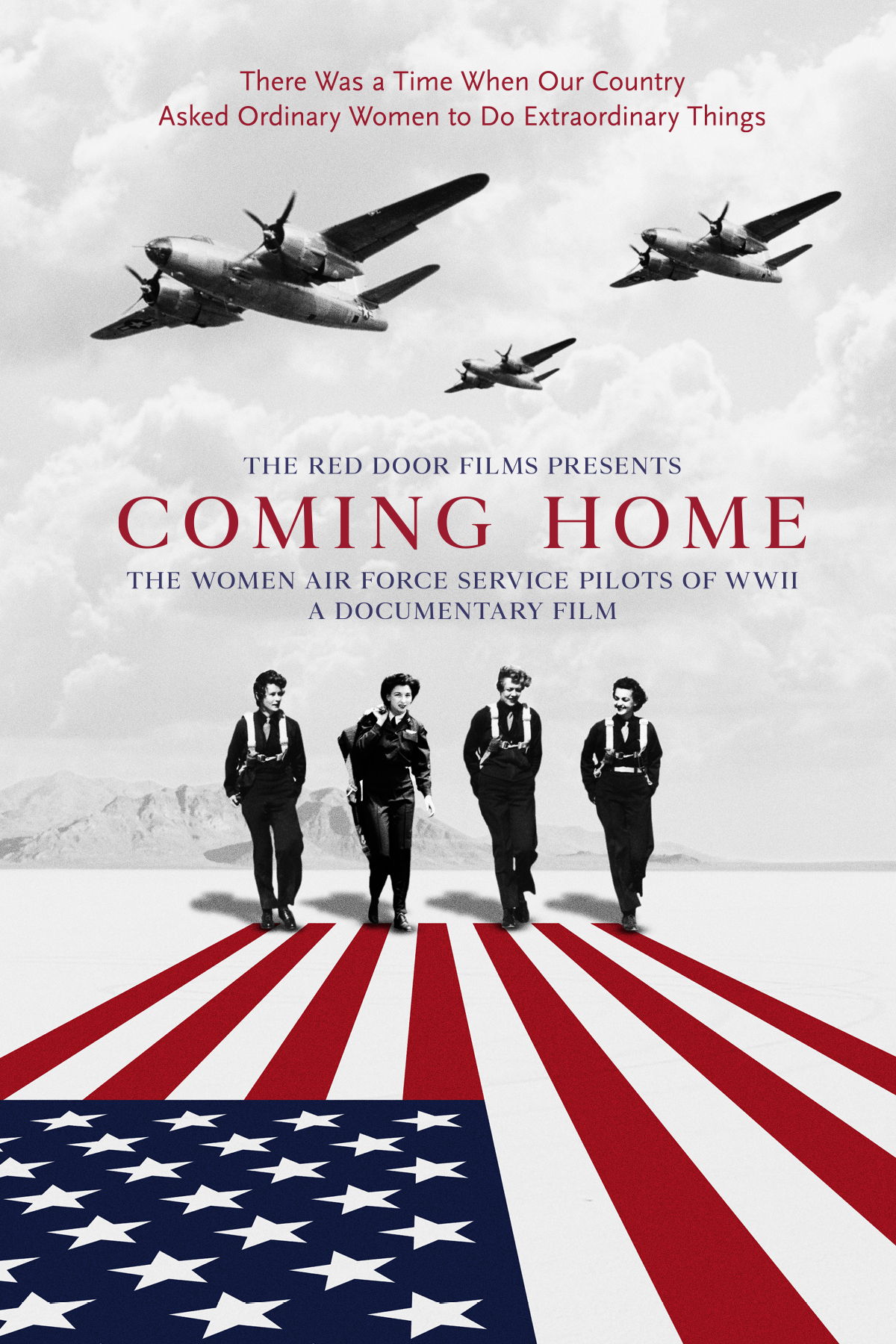 Our Story
The opportunity of a lifetime - that's what 25,000 women pilots saw when they opened their newspapers across America to see the Army Air Corp's urgent plea: "Women Pilots Wanted."
Only 1,074 made it through rigorous training to form the first all-female air force, the Women Airforce Service Pilots, WASP. These top gun pilots pushed aviation to new heights, piloting planes their male counterparts refuse to fly because they are deemed "too dangerous." Thirty-eight WASP gave their lives for their country, but two years into the program, Congress suddenly disbands the WASP, denying them all military benefits. The WASP program files are classified "top secret," effectively erasing the WASP from history - what follows is the WASP's seventy-five-year battle for recognition.
With never-before-seen personal archival footage and hundreds of hours of interviews with sixteen pilots and their families, Oscar-nominated director Matia Karrell brings us a raw, candid portrait of these 90-year-old unsung WWII heroes. Coming Home: Fight For A Legacy also shines a light on other unsung women heroes, like the African American women who were denied the right to serve in the WASP but served in other branches of the US military.

MATIA KARRELL (DIRECTOR/PRODUCER), a Fulbright scholar, has an extensive career in film and television and was nominated for an Academy Award for her short film, Cadillac Dreams. She is known for the film, Behind the Red Door, starring Kiefer Sutherland, as well as The West Wing and Army Wives. The recipient of the Fulbright and other prestigious fellowships, Karrell is also a Graduate Film Instructor at ArtCenter College of Design, Pasadena.
HILARY PRENTICE (PRODUCER) is also producing Karrell's dramatic television series about the WASP, FlyGirls. Prentice worked on Emmy-nominated HBO film, The Tale, and award-winning animation director Fabrice Joubert's film, Safety. Prentice produced writer/director Jim MacDonald's award-winning first film, Heavy Lifting. Prentice has also written, directed, and produced educational shorts for nonprofits including the award-winning start-up Magic Links. An Academic All-American graduating with honors from Dartmouth College, Prentice was also the recipient of Dartmouth's prestigious Louis Morton History prize and a Sloane-Dicky fellow.
TARA CRAIG (PRODUCER) is the founder and president of The Squid Farm, which launched in 2017. Under the Squid Farm banner, Craig recently produced the feature comedy Guest House and the sci-fi thriller 3022. In 2018, Craig also served as Executive Producer on the comedy feature Friendsgiving, produced by Ben Stiller's Red Hour Productions. She also recently produced commercials for the National Basketball Association and Goodyear. Craig produced the 2013 Tribeca film Trust Me, Balls to the Wall and April Fool's Day.
SHARON WOOD (WRITER), a longtime documentary filmmaker, has served as writer on OSCAR® nominees Tell the Truth and Run: George Seldes and the American Press, and Super Chief: The Life and Legacy of Earl Warren, along with the Peabody and Columbia-Dupont award-winning The Celluloid Closet and Paragraph 175. Between 2003-11, she was producer/writer for Lucasfilm's documentary department and co-authored The Art of Nonfiction Movie Making along with OSCAR® winners Jeffrey Friedman and Rob Epstein, published by Praeger-ABC Clio in 2012.
MOLLY MERRYMAN, Ph.D. (CONSULTING PRODUCER) is the founding director of the Center for the Study of Gender and Sexuality and Associate Professor, School of Peace and Conflict Studies at Kent State University. She is the author of Clipped Wings: The Rise and Fall of the WASP of World War II, first published in 1997 and recently selected for a 2020 re-release in the New York University Press "Classics" collection. She has directed and produced nine documentaries that have been broadcast in the United States and the United Kingdom and have screened at academic meetings, museums, and universities around the world.
CHARISSA THREAT, Ph.D. (CONSULTING PRODUCER) is the author of Nursing Civil Rights: Gender and Race in the Army Nurse Corps (University of Illinois Press, 2015), won the 2017 Lavinia L. Dock Book Award from the American Association for the History of Nursing for outstanding research and writing on the history of nursing. Charissa Threat is an Associate Professor of History at Chapman University where she teaches courses in United States and African American history. She is also the author of several book chapters, most recently, "Patriotism is Neither Masculine or Feminine": Gender and the Work of War" in the Routledge History of Gender, War and the US Military, Kara D. Vuic, ed. (Routledge Press, 2017). She is currently at work on her second book, "Sweethearts and Pin-Ups". It is a history that examines home-front activities, wartime participation, and investigates intimate relations among African American women and men in the context of the Second World War.
JOHN KAFTA (ANIMATION PRODUCER) has been in animation for years as an animator, producer, and director. He has animated TV commercials for sugar-coated breakfast cereals of many flavors and on forgotten TV shows. He has directed various TV series, among them Ninja Turtles, a DVD with a Disney Princess, and a CG film starring kids and dinosaurs. As a producer, he brought you music videos and TV series such as Spawn and others with assorted action heroes. He has worked in various capacities and in various countries on shows including Curious George, Rugrats, Land Before Time, Puppy Dog Pals, Amazing Stories, and in VFX and for a theme park development company.
Donate via Credit Card or eCheck
The Red Door Films FAQ
Is my donation tax deductible?
Yes, we are a fiscally sponsored project of From The Heart Productions, which is a public 501c3 organization recognized by the IRS. Your donation is tax-deductible to the fullest extent permissible by law.
WeDidIt FAQ
Is my donation and credit card info secure?
Yes, the security and confidentiality of your information is our highest priority. We will not sell, trade or share your personal information with anyone else, nor send donor mailings on behalf of other organizations, and we will only share personal information if you have given us specific permission to do so.
How do I know that my donation was made successfully?
You will receive an emailed receipt immediately after your donation is submitted and your credit card is processed. Your donation will also show up on your bank or card statement within 1-3 business days.
Do I get a receipt?
Yes, a receipt is sent to your email inbox once your donation is processed. Please be sure to keep a copy of your receipt for tax purposes. If you select a recurring donation, you will be sent an individual receipt each period when your donation is processed.
Is my donation private?
We will not share or sell a donor's personal information with anyone else, nor send donor mailings on behalf of other organizations.